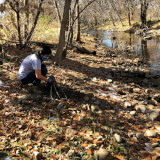 LGBTQ+ Pride Month Pollinator Garden Rejuvenation
- Teller Farm South
Wednesday, 14 June 2023 @ 10:00 AM to 01:00 PM
One-Day Volunteer Project
Join OSMP to rejuvenate pollinator habitats at Teller North/South. Tasks involve bed prep, soil mending, weeding, trimming, and planting native plants. Pollinators pollinate plants in natural/wild landscapes, gardens, and agricultural settings. Just like humans and other animals, pollinators need safe food, water, shelter to support their populations. Land use change, habitat fragmentation, reduced floral resources, and exposure to pollutants and pesticides are all linked to their decline. Volunteers will learn about the important role that pollinators have on ecosystem health and how landscapes can be managed to support them. The project is rated as easy. All areas of the project are wheelchair accessible on maintained, flat terrain. To access the pollinator garden, you must exit the maintained trail to cross a short, flat grassy area. Picnic tables and shade are available at the South Teller site. A gender neutral bathroom is available at the South Teller site. No running water is available at either site. The pollinator garden rejuvenation will be led by OSMP staff, Hales Brown. Following this, an accessible program including a walk/hike on flat, even terrain will be guided by education and outreach staff, Basil Binkley. Lunch and refreshments will be provided to participants at the conclusion of the event. Continued casual community engagement will be encouraged following the completion of the event.
Volunteers Registered:
3
Volunteer Notes
Please contact us with dietary needs. Lunch and refreshments will be provided at the conclusion of this event.