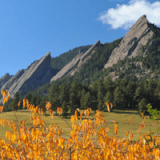 Recovery and Wellness Series: Recovery Community Holiday Celebration
Wellness & Wonder - All Ages
Geared towards those in recovery, join Open Space and Mountain Parks and Boulder Community Health to experience a celebration of the recovery community this holiday season. Expect a light hike to an outdoor shelter, community building games, and opportunities to share and learn from one another. Discover a whole new level of sober fun. Please bring layers appropriate for the weather, snacks , and water. Sign up or show up, you are welcome.
Minimum Participants:
0
Maximum Participants:
30
Sign Up for Updates
By clicking "sign up" you will receive a reminder and updates about this program.
General Info
David Ford
(720) 765-2722