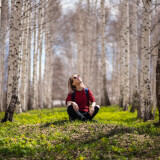 Recovery and Wellness Series: A Wellness Walk
Wellness & Wonder - All Ages
Geared towards those in recovery, join OSMP, recovery coach Brian Klink, and recovery veteran Jim Veraldi to learn about the value of local nature from a recovery perspective, and experience how these lands and inhabitants help give your immune system and overall happiness a well-deserved boost. On this relaxing walk, we'll blend mindfulness, social connection and nature immersion to deepen our connections and discover how a reciprocal relationship with nature can enhance our recovery. Please bring layers appropriate for the weather, snacks, and 1L of water. Come experience one of the many reasons US News and World Report recently voted Boulder as the #1 place to live in the US for quality of life.
Minimum Participants:
5
Maximum Participants:
15
Sign Up for Updates
By clicking "sign up" you will receive a reminder and updates about this program.
General Info
David Ford
(720) 765-2722