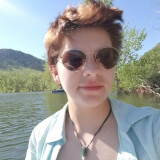 Basil B - Education: Naturalist
As an enthusiastic people person and nature lover, I seek to utilize my knowledge of the natural world, managerial experience, and skills as a certified facilitator to analyze and find innovative solutions to complicated ecological problems in the Rocky Mountain region. Kelly K - Education: Naturalist
Hi there, my name is Kelly Kirk and I am a naturalist and a Certified Interpretive Guide through the National Association for Interpretation. My background is in environmental science, community outreach, and volunteer coordination. I enjoy hiking, taking our cunucu to the dog park, and spending time amongst wildflowers. Nature has so much to teach us, and I am l looking forward to learning together in our beautiful natural system. Currently working on the OSMP trails challenge!