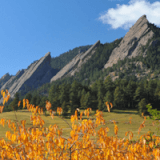 Recovery and Wellness Series: Celebration of Recovery
Wellness & Wonder - All Ages
Geared towards those in recovery, join Open Space and Mountain Parks, recovery coach Brian Klink, and recovery veteran Jim Veraldi from Boulder Community Health for an evening strengthening our community and a connection to life around us. Weather and conditions permitting, we will be parking at Flagstaff Summit West, to meet at a historic stone shelter and enjoy our peers and new friends. Bring your art and hobbies that support your recovery. This program is designed to share and learn from one another. Please bring layers appropriate for the weather, snacks , and water. Sign up or show up, you are welcome.
Minimum Participants:
0
Maximum Participants:
30
Sign Up for Updates
By clicking "sign up" you will receive a reminder and updates about this program.
General Info
David Ford
(720) 765-2722