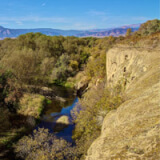 Escape to White Rocks
10/08/2023
| 09:00 AM - 01:00 PM


White Rocks/Weiser |

Registration Required
Your Land
Enjoy an easy 2-mile hike to see the White Rocks, an area so fragile and precious that it is ordinarily closed to visitation.  This three-hour-plus hike will include a geology story as seen in the rocks, an exploration of several microhabitats and a short cliff-top rest stop with views of mountains and plains. Join volunteer naturalist Bev Halwa in this unique natural area. Bring water and food as well as sun, rain and mosquito protection.  Long pants and close-toed shoes are recommended.   NOTE: White Rocks hikes are extremely popular but must accommodate small groups. If you have been on a White Rocks hike before, please let others who have not had a turn register first.
Minimum Participants:
5
Maximum Participants:
16
Registration is required for this activity. Click "register" to reserve your spot.
General Info
Juanita Echeverri
(720) 398-7324