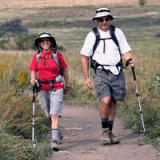 A Trail Less Traveled: A Social Hike at White Rocks Trail
Recreation & Skills
Winter is a wonderful time to explore eastern OSMP trails with more sun and typically less ice than the mountain trails. This hike will be an easy, social walk along the North Teller Farm White Rocks Trail. Bring binoculars to search for raptors along the White Rocks and waterfowl in the ponds. We'll meet at the Teller Farm North Trailhead on the south side of Valmont, and walk to the White Rocks Trailhead across the street. These trails are multi-use and we're likely to encounter horses and bikes. Also, there are no facilities, please plan accordingly.
Maximum Participants:
15
Sign Up for Updates
By clicking "sign up" you will receive a reminder and updates about this program.
General Info
David Ford
(720) 765-2722