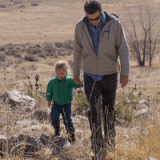 A Nature Play Date (KIDS- All Ages)
Your Land
Busy schedules? Too much screen time? Join OSMP for a Nature Play Date! Today's families have less time to connect with nature than past generations. Unlike traditional education programs, Nature Play Dates offer opportunities to relax with your children in nature. Drop in and splash around in the water, check out some rocks and plants and bugs, or just relax under a tree. Staff will be on hand to guide the experience, answer questions, and chat about the philosophy of reconnecting kids to nature.
Minimum Participants:
5
Sign Up for Updates
By clicking "sign up" you will receive a reminder and updates about this program.
General Info
Jessica Ermak
(720) 667-6107