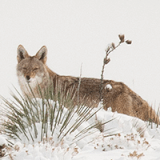 Enchanting Ecology: Winter Edition
12/11/2022 | 12:30 PM - 01:30 PM
Enchanted Mesa
Plants & Wildlife
Join OSMP Naturalist Devyn on this family-friendly hike to explore the superpowers of the ponderosa pine forest ecosystem in winter. Immerse yourself in a winter wonderland of snowy ponderosas while learning about forest ecology. Bring warm drinks and snacks, expect a 1 hour hike and be prepared for cold and snow! Meet at the Enchanted Mesa trailhead.
Maximum Participants:
25
Sign Up for Updates
By clicking "sign up" you will receive a reminder and updates about this program.
General Info
David Ford
(720) 765-2722